Quite often we get asked how we got into indoor skydiving as our family sport. Originally our son James first flew at iFLY Singapore at the age of six and totally loved it. Fast forward a few years and James at the age of twelve wanted to do a tandem skydive, as a mother, I could feel my heart rate triple with the thought.  So, the next best thing….iFLY Downunder here we come! 
James was booked for his first introductory flight with instructor Zac.  From the first feel of the wind, right then and there James had found his calling.  Next thing, Fast Tracks were done in the click of the fingers and coaching began with Kyle Chick from Team FOCUS. 
After watching James have a great time, we wondered what it would be like. Raf booked in first and you guessed it, he was hooked too! So more Fast Tracks for him; then I too wanted in on the fun.  Soon after Raf and I got signed off on our belly and back flying. We decided to create a routine in the tunnel for fun, but also that we could fly as a family. So, a routine was hatched in our kitchen of all places, where we would walk through the moves we would fly in the tunnel. Many laughs were had practicing and we often thought if people could see us now. So now it is called our "Kitchen" routine and even to this day, it is one of my favourite things to fly. 
James has now been flying for nearly three and a half years and has a passion and dedication for Dynamic and VFS and has competed against adults and won his categories. At iFLY Downunder, James has great mentors, especially Kyle Chick who has trained him for most of those years to a level of having the privilege of James being sponsored. 
The flying community at iFLY Downunder is one that is not only supportive, but for the friendships that are made there will be life long and that is why we continue to enjoy this sport as a family.  Out of these friendships, I created a social flying club called Flying Friends Downunder, where everyone gets together every couple of months for a night of flying and great laughs. Our Junior Flyers attend our Huckjams and have a ball. It's that type of community where everyone is welcome no matter what your age or flying ability is. 
In a nutshell, this sport of indoor skydiving not only gives you a great time of flying, but the chance to do things as a family that we all enjoy and to keep fit, have fun and encourage those to have a go and enjoy the experience.  Now, I wonder what the next routine will be…. Stay tuned! 
Paula Dehombre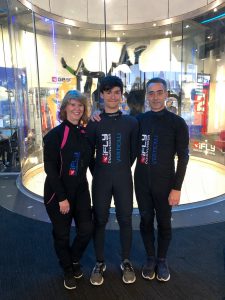 Unleash your inner dare-devil at iFLY!
If you and your family or friends are ready to take on a new, trilling sport, check out our packages here: