xReality Group Limited (ASX:XRG) (xReality) announced the global launch of its Defence specific product line during the Military Communication and Information Systems Conference and Expo (MilCIS) in Canberra on 24th February 2022.
Operator is a safe and agile state-of-the-art tactical training system that uses standard issued weapons in a virtual reality environment.
Military, law enforcement, other government agencies and armed personnel are routinely required to carry firearms with the potential to use lethal force. This requires regular training to maintain firing accuracy and tactical awareness. Yet training with live ammunition is costly, time consuming, and burdened by space and regulatory constraints.
Past virtual reality technologies have failed in tactical training and mission planning. Systems were too complex, immobile, and lacked integration with the users' own equipment.
Operator Tactical Solutions was created to address these challenges and realise the benefits of immersive technology combined with real world operational experience. By reimagining virtual reality in the combat environment, Operator maximises training opportunities in a low risk and realistic manner.
Virtual Reality Tactical Trainer
The VR Tactical Trainer (VRTT) allows personnel to train close quarter battle (CQB) tactics and techniques in any location. Whether in transit on board ships, stationed in forward operating bases, or any other areas without appropriate facilities, VRTT uses free roam tracking technologies developed in house by Operator, which can be used securely, anywhere in the world.
Using proprietary technology developed by Operator, the VRTT integrates with soldiers' real weapons and equipment. The VRTT is completely mobile and allows setup in minutes in any location.

Key features include;
• Train CQB drills in any location
• Teams train in the same physical and virtual space
• Opposed mode allows near pear combat training
• Setup in minutes
• Design any room layouts
• Train using your own live weapons with V Bolt™
• System is secure and offline
After Action Review System
Debrief drills and tactics from any point of view: top down, friendly unfriendly, or any third person view Analyse participants field of view, weapon angles, eye movement and more.

Mission Rehearsal System
The Mission Rehearsal System (MRS) focuses on operational planning and mission rehearsal. The MRS uses in house tools and third party data to simulate real world targets and environments, positive identification and specific threat integration, and Command, Control & Communications (C3) planning and rehearsals. This allows rapid development of targets with live inputs to cater for time sensitive, detailed planning and rehearsals for operational environments.
The MRS system is currently in development and utilises the same technology platforms as the OP-1 Tactical Trainer.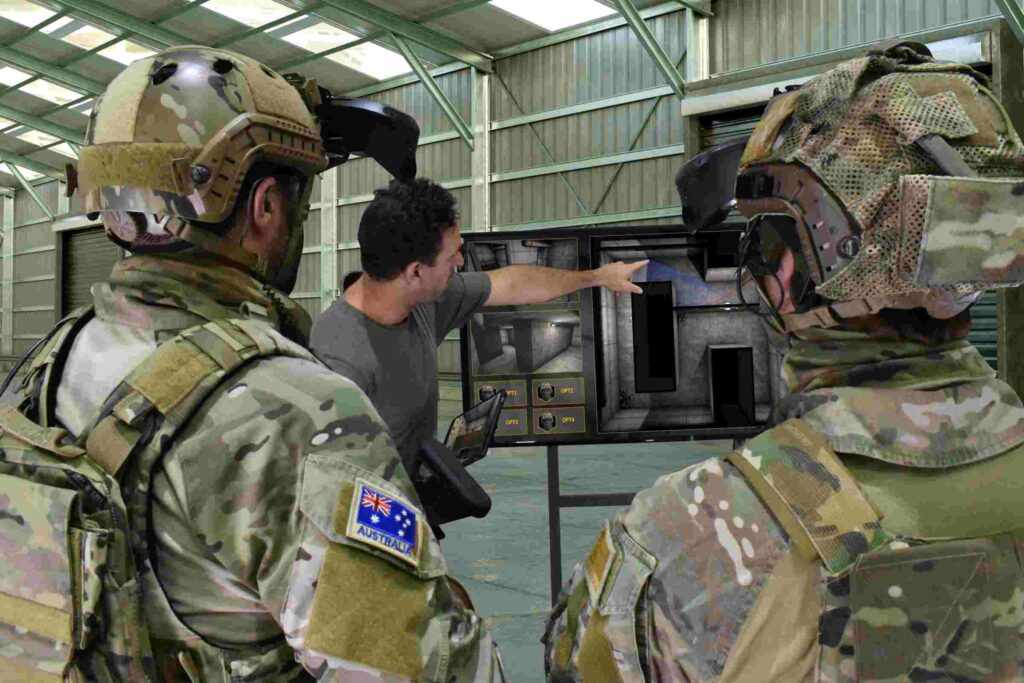 Operator LE
Operator's Law Enforcement System (Operator LE) was launched 31st March 2022. The LE system is build for the needs of Police Officer training involving de-escalation techniques, shoot / no shoot scenarios, and use of force scenarios. The system has been built on the same underlying technology as the OP-1 Virtual Reality Tactical Trainer. Each portable kit contains a virtual reality headset, tracking equipment, and training weapons, developed by XRG which include Glock 22, Taser and OC Spray.


International Distribution
On 21st April 2022, XRG signed an international distribution MOU with Endurance Group.
The purpose of the MOU is to establish key commercial terms around the global distribution of Operator's Virtual Reality Tactical Trainer. Endurance Group is a well established, service disabled veteran owned and operated business, comprising trained and experienced US and international Tier one military, law enforcement and intelligence organisations. Endurance Group currently provides specialised training and consulting services to all manner of military and law enforcement agencies in North America, Canada and Europe.


Partnering with Endurance Group will accelerate Operators international expansion by offering Virtual Reality tactical training capabilities to Endurance Group's existing customer base which consists of highly specialized units within the United States, Canadian and European Special Operations divisions, several US Police SWAT teams, and multiple broader US law enforcement agencies.
The US Market forms a significant part of Operators's growth strategy due to its scale. The United States Special Operations Command (USSOCOM), home to all Special Forces, has approximately 70,000 personnel, with the broader US Armed Forces consisting of over 2.1 Million personnel.
View the Operator website, outlining the detailed product range here: http://operatorsimulation.com/
View the Operator MilCIS presentation below:
The Investor Presentation on our Defence & Law Enforcement Global Growth Strategy can be viewed below: